We have just begun our second year of home school with Hannah and she is now in Kindergarten. I realize when I am working with her just how much she has grown up the past year. So much has been learned and she has retained a lot of the information. We are only on day two and she already seems to be learning so much...hopefully school will still be fun for her in three months. Learning how to read and write has been key for her. The preschool curriculum I used was very intense and by the time she finished with Pre-K, she could read (very roughly) small, 5 page books, count to 100, knew her ABC's forwards and backwards and could write her entire name. She really hit some major milestones...I was thrilled today when we were at the doctor for her physical and they asked her if she knew her whole name and she did. :) It is nice to see that retention of what you teach pays off.
Today, I am going to introduce you to a curriculum that uses a multi-sensory approach to learning how to read, write and spell and this curriculum is called
Logic of English
. They offer programs for different grade levels and
Foundations A
was the set that interested me the most, because it is geared towards children ages 4-7 years of age. This curriculum is based on 74 basic phonograms and 30 spelling rules (really, the English language is a tough one to learn!!) that explain 98% of English words. I always hated English when I was in school and now I know why. :) Logic of English was founded by Denise Eide when she saw her own children struggling with reading and writing and I love companies that are formed out of a mother's desire to help her children. Here is a bit more information about Denise, taken from Logic of English's website...
Denise Eide
Denise Eide is the author of the multiple award-winning book, Uncovering the Logic of English: A Common Sense Approach to Reading, Spelling, and Literacy, and The Logic of English series of curriculum and learning materials. She is passionate about changing how reading is taught for ALL students.Though she studied for her masters degree at the University of Minnesota in the Department of Curriculum and Instruction, has taught EFL at the University of Pereslavl, Russia, and taught adult literacy in the United States, it was when her own children struggled with learning to read that she discovered the rules and phonograms developed by Dr. Orton. She immediately recognized how this vital information would have revolutionized learning to read and spell for her adult students and watched it transform the lives of her own children. In order to spread the great news that English is not riddled with exceptions, she put together a short presentation called the Logic of English and began speaking to teachers and parents. It was at this time that she put her hand on the heartbeat of the literacy crisis.
I was very excited when I was given the opportunity to review the Logic of English Foundations A curriculum and was even more excited to see how Hannah did with the material.
So, for this review I was sent the following items...
Foundations A Teachers Manual ($38)
Manuscript Workbook ($18)
The Rhythm of Handwriting Manuscript Chart ($9)
Basic Phonogram Flash Cards ($16.20)
Manuscript Tactile Cards ($25.20)
Red Manuscript Phonogram Game Cards ($9)
Blue Bookface Phonogram Game Cards ($9)
Student Whiteboard ($10.80)
I also received the Phonograms App ($2.99)
When I first saw all that was included, I was immediately overwhelmed...it seemed like alot to handle so I just took it day by day to see what my daughter's interest level would be. I don't push her, but I do make her do things she doesn't enjoy because school is not always fun...this curriculum looked like something Hannah would enjoy.
The student workbook is full of colorful drawn pictures as well as photographs. I think that using real photos can really help to draw a child in and connect them to what they are learning. I loved thumbing through the book and looking at these colorful pages. I also like the simplicity of the lessons...Hannah was really good at learning and saying the compound words.
I found that
The Rhythm of Handwriting Manuscript Chart
was very helpful to me because it gave me a way to properly explain how a letter is formed when written. This is something I struggle with...being able to articulate to Hannah how to do things. If it isn't spelled out, I am not creative enough to come up with my own explanation in a way that Hannah will understand. I love this chart for that reason. Within this chart you will find instructions on how to write both upper and lower case letters, as well as a plethora of other letter "styles" (slash letters, roll letters, kick letters, etc.) I had never heard of these other styles before Logic of English so this was totally new for me.
I wish you could have heard me open the package of
Manuscript Tactile Cards
...I was totally into these! What these cards do is give your child an extra sensory tool to learn how letters "feel" when properly written. The red letters feel like sand paper! So, when explaining how to write a letter, I took Hannah's hand in mine and had her finger-trace each letter. She would grin from ear to ear when we would do this and I knew it was sooo good for her to have this. I had a homeschool friend visit the other day and she was floored when she saw these...she told me that she had made her own once upon a time! That is how effective these cards are. Hannah definitely loved these and I am excited to use these with my son when he is in school as he is more of a sensory learner than Hannah. Being able to TOUCH the letters and FEEL the strokes is a huge benefit.
The Teacher's Manual is laid out beautifully. Again, I need structure when I teach and this book gives me just what I need to properly instruct my child. The beginning of each lesson has an objective and also tells you what you will need for the day's lesson. I love how there are clear phrases that I say to my daughter and how the book gives me answers that she may give me back...it also tells me what the correct answer will be so I won't have to wonder if she was right or not.
There are also tips and hints found on different areas of the pages so if you get stuck or have a child who seems to be having trouble with certain things, you can refer to these little colored blocks and find solutions. I really liked this because it helped me to go a bit further in some areas with Hannah.
One thing this curriculum really uses to aid in writing is the use of strokes. I will admit that these were very difficult for Hannah. To her, it was just doodling...I am not sure if that was the goal when this method was developed but some of the strokes have to look just so and when Hannah was done with her practice, many of her strokes looked nothing like they should have.
Nonetheless, she practiced her little heart out and tried to get it right. When the strokes began to look like stick people, we moved on to the next part of the lesson. :) I LOVE the whiteboard too, the lines are nice and big and she can really work easily without paying alot of attention to detail. This really comes in handy.
There was one part of this curriculum that I cannot say enough good about...learning about "voiced" and "unvoiced" sounds/letters. A voiced sound is when you say a sound and can feel the vibration of the sound in your voice box. When we did this part, I would have Hannah put her hand on my throat to feel the difference. Unvoiced sounds would cause the voice box to be still...no vibrations. She also learned how to describe to me what her mouth does when she says the letter "P" and "T", among other letters. One of the tools you use to teach this is a small, hand-held mirror. I think this was Hannah's favorite part of the entire lesson.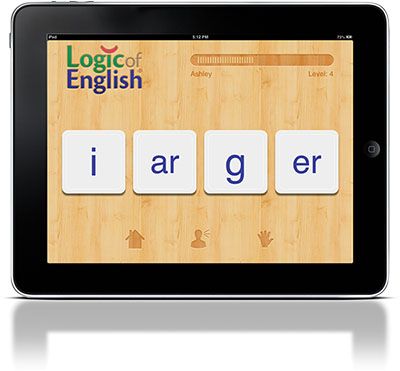 The
Phonograms App
is a nice tool to have in addition to the student workbook as it helps you to actually hear the sounds that you are trying to teach. There are also games that the student can play to help them identify the correct sound that the phonogram makes. Hearing, seeing and then touching the phonogram makes the entire learning process much more fun and I think I used this app more than Hannah did! Understanding the proper way to pronounce phonograms is important and this app comes highly recommended if you are doing the Foundations courses from Logic of English.
So, all in all we have been enjoying using Foundations A from Logic of English. I think that there is a lot to this curriculum but that is only because they give you everything you need to properly and effectively teach your child. The price is a bit steep for me but for someone who has a child that is really struggling to grasp English, it would definitely be a wonderful teaching tool that I would recommend. The Logic of English can be found on
Facebook
as well as on
Twitter
so if you are interested in investigating more about this company, you certainly have some wonderful options available to you. Be sure to check out other reviews from my other Crew mates who have also had the opportunity to review Logic of English...click the banner below to see these additional reviews.