Homeschool
LiteracySoft ~ Phonics and Reading with McGuffey App Review
4:36 AM
My daughter is four and a half years old and we are currently doing Pre-K with her. She was a bit tough at first when it came to learning the hows and whys about homeschooling but she has finally caught on and is doing VERY well. Being that this is my first child that I am homeschooling, there is so much that I need to learn and it seems that the expectations for my four year old are high. Curriculum can be demanding but that can be a good thing as it really keeps me on my toes. Hannah is more than half way through her school year (we got a late start) and she has been doing a lot of
pre-reading activities
and I am shocked at how much I thought she could not do but is doing already. Who would have thought that a four year old could read??? I certainly didn't.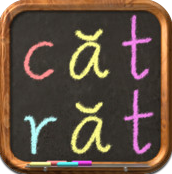 Today, I am going to introduce you to an app from a company that is called
LiteracySoft
. The name of this app is
Phonics and Reading with McGuffey
and it retails for $19.99. Phonics and Reading With McGuffey is geared towards learning how to read and also, learning the phonics that goes along with reading skills. When I first found out about this app I was very excited simply because I have a new reader here in my house.
When you first open the program, you are given the opportunity to add users. In this case, I am going to be putting in my child's name. Each time you go to use this app, you can select which user is currently going to be using it. I like this because you can keep each child separate and they can actually pick out their own section.
Once you have chosen your user, you then can go ahead and pick out where you want to start your lessons. I like this because I can pick different lessons. If my child has already done a lesson and it is not advanced enough, I can jump ahead to a new lesson. This lesson selection idea is wonderful!
All of the lessons are laid out the same way. You have the different categories to pick from on the left hand side and a sample of the lesson on the right. This kind of gives you an idea of what you are going to be doing. Again, you can pick and choose where you want to start. Getting going in the lessons is a quick process...it seems that a lot is required right away and some students may not ease into it as others. I know my daughter needs ALOT of explaining and I found that wasn't always done with these lessons. BUT, for those of you whose children catch on quickly, this would be perfect for them.
One thing that I really like is the Reading Practice. The child first views a picture of something happening. In my collage above, the picture is of a cat playing with a rat. So, you first look at the picture. Then, you press the down arrow on the right hand side of the screen and it takes you to the next page in which you will begin to read the story about the picture. The best part is if your child has a hard time sounding out words, they can press the empty box under the words and actually HEAR the word being spoken. This was great for my daughter as this is how she learns...by seeing. (Yes, she is a visual learner just like her momma...lol!)
Another aspect of the lessons that I LOVE is the Phonics Blender. NOW, I will interject here that the narrator sounds terribly boring and monotone. The way he explains things is not very clear as well and he uses words that are "big" for my daughter to understand. My daughter is four and needs a bit more excitement to keep her interest peaked. If she feels bored, then we won't get very far. Sometimes, I think she found this app boring because of the way the instructions were being given. So, the reason I love the Phonics Blender is because it allows your child to drag letters down to the bottom of the screen so they can build and listen to their own words. The Phonics Blender does not limit them to actual words so they can make just about any word that they want, even if it isn't really a word.
The other part of the lessons that I really enjoyed was the
Sight Word Drilling
. What Hannah had to do was to listen to the narrator and pick the word that he says. When she presses the correct word, the train starts to move. Literally. The wheels start turning, smoke comes out of the smokestack and the whistle blows. This was really cool!
I think this was my daughter's favorite part of this app because it was active and "looked" fun. She is all about having fun when she is doing school and I can't say that I blame her. You can see that she did struggle a bit with it but I just think it is because she is still a bit young and in the early stages of reading.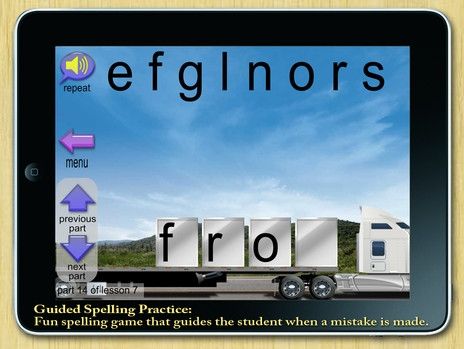 Overall, I enjoyed the time we spent working on the
Phonics and Reading With McGuffey
app from LiteracySoft...it has so much to it that I think it is (and will continue to be) a wonderful asset to our homeschooling curriculum. It is intense and quite a bit of work and that is alot for Hannah to process right now at this point in time. However, I can see it being VERY helpful when she gets into reading more in the coming months. I would definitely recommend this app from LiteracySoft to any parent or person who is looking to improve their reading skills...it is a wonderful tool and would be a valuable asset to any homeschooler's curriculum library.