One of the best parts of being a parent is the fact that they learn from ME. Some things I would rather they not learn (occasional bad attitudes, grumpy moods, tempers, etc.) but most things I am thrilled for them to learn. We just moved to a new house and I now have a dishwasher (!). My oldest daughter, who is 4, is learning to help load and unload the dishwasher. It is really fun to watch her learn how to put away the silverware and line the plates up in the dishwasher. She doesn't do it perfectly, but she is 4. So, she is learning and that is what counts.
I recently was introduced to a curriculum that is geared towards the younger ones in the family and I was so excited to hear about this! When I say younger ones, I am referring to BABIES that range in ages from birth up to toddlers that are five years old. It focuses on helping your children learn and develop their fine motor skills...among many other things.
Flowering Baby
is a company that was founded by a mom (named Martha Saunders) who decided to home school and, after research, developed her own curriculum that would help her younger children in their development.
Flowering Baby is more than a curriculum...it is a tool. Many times, parents can have a difficult time connecting and playing with their children. My creativity is pretty limited so I am always looking for different ideas on how to keep my children occupied and happy. When my first baby was born, I didn't realize all the things I could actually do with her because I didn't understand how much she could really comprehend. You would be very surprised at how smart babies are.
One of the things that Flowering Baby does is break down the curriculum into age groups. If you have a newborn, than you are going to want the year Birth to One. This will cover developmental activities that will help your infant learn and make them more aware of the world around them.
So, for this review I was sent two DVD's from Flowering Baby and the years I was sent were the
Birth to One
(for my 9 month old) and
Two to Three
(for my 2 year old). I was VERY excited to review these and share them with you!
Needless to say, I dug right in. The first thing I did was research and see what I would need to use this successfully with my children. The DVD opens in Adobe and is very clear on what you are to do in order for this to work for you. I love how each month is broken down within the year and Martha lets you know EXACTLY what you will need to complete each month. As you can see above, for months 6 to 9, you will need the items listed, such as wooden blocks, stacking cups, bubbles, etc. There is no guess work needed - it is all outlined for you. This is the format that all the DVD's follow. If you need supplies, you will be told which supplies you will need. If you need music (which is HUGE in this curriculum), you will be told what type and name of any and all music that is needed.
One thing I had a bit of trouble with was when I looked for the children's books at my library, there were several titles that were the same but had different authors. When the curriculum called for a book called "Hello Baby", I had several choices. So, I just picked the book that looked like the one I would need. This was the ONLY thing I had an issue with when working with this curriculum and it was a very small issue. :)
Once you have figured out what you will need for the program, you can then dive in and begin to play with your baby! This picture above is what your schedule will look like for several days. It tells you how to work with your child each day and what supplies you are using, music you are listening to and ways to play that will intrigue, mesmerize and stimulate your child. Honestly, it takes about 20 minutes a day (or up to 45 minutes depending on what age you are working with) which truly is not much at all. However, it is enough for him.
I was able to play quite a bit with my children while reviewing
Flowering Baby
and above, you will see some of our favorite items that we used in our daily activities. Isaac is 9 months old and his attention span is zilch right now. So, we go through our activities and it takes about 15 minutes to complete everything. His favorite activity is where I give him two balls to hold...one for each hand. Then, I hand him a third ball and look to see what he does with the other two. Right now, he will hold two of the balls and when he sees the third ball he (and it is SO CUTE!) gets really excited and drops one (or both) of the balls and grabs the third ball. We have a BLAST with this game. The other activity he loves is when I put a gauze scarf over his head and we play peek-a-boo. He has learned how to pull the scarf off his head and gets a huge smile on his face when I say "PEEK-A-BOO!!" Doing these simple things each day has helped him to become so much more animated...I am just in love with what we have been able to do!
Working with my 2 year old was a bit more challenging as he is a slow learner. He did enjoy doing the counting activities and also the color-identifying activities. I am amazed at how he can focus though...Flowering Baby has definitely allowed me to learn that about him. He also loves learning through poetry and one thing that his age-level curriculum does is sing "Itsy Bitsy Spider" alot. This is perfect for him. He loves using hand motions and singing along with me. We make a pretty cute singing duo. :)
My overall opinion of Flowering Baby is that it really helps spark creativity and solid learning tools and methods for me. Interacting with children doesn't seem to come naturally for me some days so it is nice to have a structured program like this to help me. I am also thrilled that my children can be learning and growing at the same time.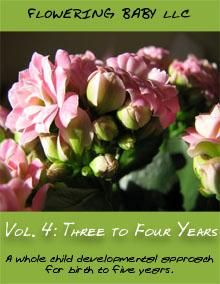 The Flowering Baby curriculum DVD's retail anywhere from $30 to $38 OR you can purchase all five years of Flowering Baby for just $132. As a special bonus, Flowering Baby has graciously extended a 10% discount to any of my readers by using the code "Blog10" when ordering.
To read more fantastic Crew Reviews of Flowering Baby, you can click
here
. Hope you have enjoyed this synopsis of my experience working with Flowering Baby...it truly is a wonderful program and one that I am looking forward to using in the coming days, months and years.

Disclaimer: I received a free copy of this product through the Schoolhouse Review Crew in exchange for my honest review. I was not required to write a positive review nor was I compensated in any other way. All opinions I have expressed are my own or those of my family. I am disclosing this in accordance with the FTC Regulations.